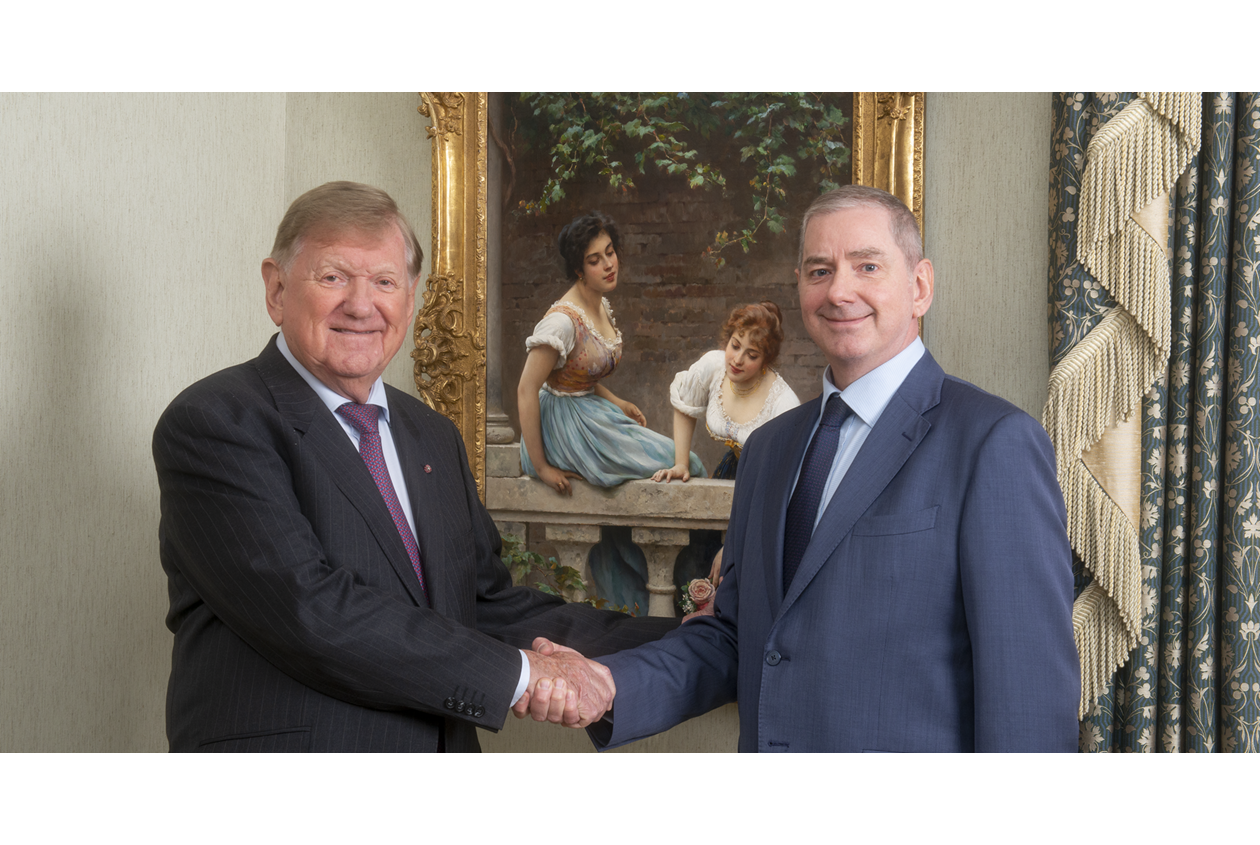 Chairman David L. Mason, OBE with David MacConnal Mason
An Art collection is a source of enormous pleasure and justifiable pride, which is as unique and individual as the person who forms it. With our dedicated team at MacConnal-Mason, we aim to guide and nurture clients with the highest levels of service, whilst at the same time ensuring the experience is a relaxed and enjoyable one.

Clients, established and new, can browse six floors of gallery space in our two buildings, distinguished exhibition stands or website, at ease, confident that they are considering some of the finest examples by the artist or of the genre. If a particular work appeals, our expert directors are available to provide comprehensive background information. Wherever possible, we can also arrange a residential viewing, allowing a prospective buyer to consider a work in situ, without any obligation or pressure. We own our stock, clear evidence of our passion and commitment, and having been through the acquisition process ourselves, we are uniquely qualified to explain the significance of a piece. Practical guidance, including shipping and installation, is provided by our experienced in-house team along with insurance advice.

In short, every aspect of collecting is covered by MacConnal-Mason. Such an emphasis on trust and professionalism, means we enjoy a great longevity of association with our valued clientele.
MACCONNAL-MASON: A BRIEF HISTORY
David L. Mason O.B.E. Chairman
The MacConnal-Mason family have now been established as art dealers for over one hundred and twenty years, and I felt that many of our clients might find it interesting to know something of the heritage that we enjoy.

The family involvement commenced in 1893 when my Great Uncle, Rayner MacConnal formed a partnership with Archibald Phillips founding a company called Phillips & MacConnal. The head office was in the Burlington Arcade, London with a branch in Bournemouth (pictured) and The Art Gallery at the Gleneagles Hotel, Perthshire. Phillips & MacConnal went on to also open a branch in Liverpool at Castle Street. Between the two World Wars, Phillips died and the company was then carried on by Rayner MacConnal and the name changed accordingly. In 1935 my father Leslie MacConnal-Mason and Rayner MacConnal's son Joseph MacConnal joined the company and traded from the main gallery at 3, Old Bond Street, with a branch in Harrogate called the Grosvenor Galleries.

During the Second World War my father was an Officer in the Royal Navy, stationed at Scapa Flow and Largs in Scotland, and Joseph MacConnal enlisted in the Royal Air Force. The business continued to run from Harrogate throughout the War during which Rayner MacConnal died. After the War, as we had not occupied the Old Bond Street premises, we lost our entitlement to reclaim them and continue our business, in accordance with the law at that time. My father Leslie MacConnal-Mason managed to acquire a lease in Duke Street, St. James's from the renowned society hostess Rosa Lewis who was the owner of the old Cavendish Hotel. My father and Joseph MacConnal continued to trade from 19 Duke Street, St. James's and the Grosvenor Galleries in Harrogate until 1955, when they closed the Harrogate branch.

After leaving Highgate School in 1956, at seventeen years of age, I joined my father and my uncle, Joseph MacConnal, for a period of two years, following which my father dissolved the Rayner MacConnal partnership and we formed the MacConnal-Mason Gallery. As the Cavendish Hotel was to be pulled down in 1959 we purchased the freehold of 14 Duke Street, St. James's. In 1970 my father Leslie MacConnal-Mason died. In 1995 after a period of sustained growth I acquired the freehold of our flagship building 17 Duke Street. Between the two buildings we enjoy gallery space on eight floors. My son, David M Mason, who is the fourth generation in the business, joined the Company in 1985 and has played a major part in its expansion. We look forward to future generations joining the business.